Course completed 

Course added to My Library 

Cours complété 

Cours ajouté à ma bibiliothèque 
Travel and Tourism Programs Endorsed by ACTA

ACTA endorses community colleges, private vocational schools and correspondence programs that offer full-time programs and distance learning programs to train for the occupation of travel counsellor. This endorsement indicates to perspective clients/students that your program is meeting or exceeding the minimum requirements for entering the travel industry as a travel counsellor.
The criteria for endorsement includes:
Length of time the program has been offered
How graduates are performing in the workplace
Course curriculum
Instructor qualifications
How students perform on the Knowledge Exam
Community Colleges: generally offer full-time programs, usually one or two years in length. Subject matter includes specific travel training and general courses, such as English and Business.

Private Vocational Schools: usually offer full or part time courses, which are generally from six to eight months in duration. Courses usually focus on travel training and may not include general courses.

Correspondence Programs: usually offered through colleges or vocational schools where students complete a "home based / self-directed" course of study, either in a paper-based format or an on-line format.

ACTA offers five levels of endorsement.

Similar to hotel star rating system, a travel program receives stars based on the number of inclusions it offers, for example: travel services, specific curriculum, hours, field placement and live GDS training.

In addition, completing a travel program at an Endorsed Travel School will entitle the graduating student to benefits when earning their CTC (Certified Travel Counsellor) designation. These benefits include reduced certification fees, reduced occupational experience hours (conditions apply) and complimentary Knowledge Exam prep materials. Employers look for graduates from Endorsed Programs because they know the minimum industry standards have been met and the graduate comes with what amounts to a "Quality Assurance Tag".
Choosing a Travel School

Before you select a travel school, do the following research. It is well worth the effort as selecting a travel school is a critically important decision that will have a big influence on your career. Your choices include Distance Learning and Full-time programs endorsed by ACTA.
About the School
Is the school licensed by the provincial government?
How long has the school been in existence?
How long has the travel program been in existence?
Is the school a Better Business Bureau member?
Have complaints been registered against the school?
About the Faculty
Are the instructors certified?
What designations do they hold?
What travel industry experience do they have?
What previous teaching experience do they have?
How long have they been teaching the program?
About the Travel Program
Is the program based on the Travel Industry-led ACTA Core Curriculum?
What is the duration of the travel program?
Does this include a work practicum? How long?
What type of automation system is being taught?
How many computer terminals do they have?
What textbooks are being used?
What is the placement record for graduates?
Where are graduates placed?
Recommended Subject and Hours

Based on the Travel Industry recognized Core Curriculum and occupational standards, ACTA recommends that travel training programs offer instruction in the following subject areas:
Promote Tourism
Administer Client Bookings
Exhibit Professionalism
Office Administration
Communication Skills
Sales and Service Skills
Identify Travel Destinations
Research Travel Destinations
Product Knowledge-Accommodation
Product Knowledge-Air
Product Knowledge-Cruise
Product Knowledge-Ground (Rail and Cars)
Product Knowledge-Insurance
Product Knowledge-Tour
In general, curriculum hours should be spent on:
Professionalism subjects 5%
Administer Travel Bookings 35%
Sales-Customer Service 25%
Travel Products 35%
Many travel programs include non-travel services specific topics such as event planning, a second language, job search skills or computer skills that add to the overall value of the program.

Endorsement Criteria

Each level of endorsement must meet certain criteria in order to be endorsed.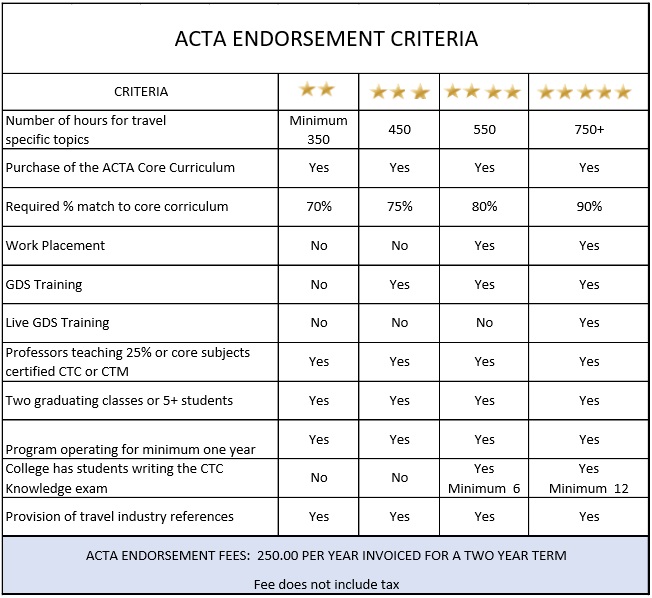 Provisional Endorsement

If a travel program does not meet all the criteria for Full Endorsement then Provisional Endorsement may be granted for a maximum of two years, while they work towards satisfying the additional criteria. Examples of criteria that may need to be met include:
the educational institution must have offered the travel program for a minimum of two years or two graduating classes
at least one faculty member shall hold a designation at the CTC, ACTC or CTM level.
Endorsed Full-Time Programs

Looking for a full-time program?

Full-Time Day Programs are available in the following provinces:
Endorsed Distance Learning Programs

ACTA offers four levels of Endorsement:
Two Star



Three Star




Four Star





Five Star







Similar to hotel star rating systems, a travel program receives stars based on the number of inclusions it offers, for example: travel services specific curriculum hours, field placement, live GDS training.

If a travel program does not meet all the criteria for Full Endorsement then Provisional Endorsement may be granted for a maximum of two years, while they works towards satisfying the additional criteria.

ALGONQUIN TRAVEL SCHOOL




(formerly Algonquin Careers Academy)
Travel Counsellor (Online)
90 King Street Saint John
New Brunswick
E2L 1G4
Phone: (416) 261-2735
Website: http://algonquintravelschool.com
E-Mail: info@algonquntravelschool.com

Welcome to Algonquin Travel School and our Travel Counsellor On-Line Certificate Program.
Our program is proud to receive a 4-Star endorsement from the Association of Canadian Travel Agencies (ACTA)
We are also the recipient of the Gerald Heifetz Award in 2019, promoted by ACTA and Air Canada.
The program is instructor led over the internet, supported by print or e-book textbooks.
There are module online tests and mid-term and final examinations, and marked reports are e-mailed to you with instructor feedback and comments on your progress.
The 12 module curriculum is normally completed in 12 months, but you may "fast-track" and graduate in a shorter time.
A custom timetable is set specifically for you to control your progress through the program.
The full cost including textbooks and taxes is $3,700, and a monthly payment plan is available.
The program is open entry and we can start you at any time, after the Registrar has made the necessary financial arrangements.
Our last two modules cover training for the Travel Industry Council of Ontario (TICO) and Certified Travel Counsellor (CTC) examinations.
We assist with the registration for both online examinations, and also in securing an approved proctor for the CTC exam in a location convenient to your home.
We will be glad to provide further information, and look forward to hearing from you.


CANADIAN TOURISM COLLEGE




Travel Agent Certificate
#320 - 10362 King George Blvd
Surrey, BC
V3T 2W5
604-582–1122
1-800-668-9301
Fax: 604-583-4092
https://www.tourismcollege.com/programs/online/travel-agent-certificate/
The Canadian Tourism College 3 star endorsed online Travel Agent Certificate program is a computer based training program specializing in travel education that allows you to study at your convenience. The content is dictated by the travel industry and is designed for two types of learners. Entry level individuals who are interested in beginning a career as a Travel Consultant whether home based or in an office and for travel professionals that are interested in specialized courses to expand their skill sets in specific areas like the cruise market, selling vacation packages and tours and small group tour leadership. Each of the 15 web-based courses created by industry experts will earn you Canadian Tourism College's Travel Agent Certificate or if you prefer, you can mix and match on an individual basis. As a student of Canadian Tourism College you are eligible to access Career Hunters on www.tourismcollege.com where all current job opportunities are listed.

FANSHAWE COLLEGE




School of Tourism, Hospitality and Culinary Arts
Tourism-Travel Studies (online)
1001 Fanshawe College Blvd
A1015 PO Box 7005, London ON N5Y 5R6
801-572-3454
519-452-4430 ext. 4898
jelliott@fanshawec.ca
www.fanshawec.ca/tts

Fanshawe College's Tourism - Travel Studies program is a one-year Ontario College Certificate designed for students seeking a career in the travel industry.
The curriculum will focus on the fundamentals of travel consulting including customer sales and service, travel business operations, travel systems software, and emerging technology trends. Graduates of this program will have the knowledge and skills necessary for entry-level customer service positions in the hospitality and tourism industry such as travel agent, reservations agent, front-desk agent, and other customer service representatives. Graduates will also be prepared to write the Travel Industry Council of Ontario (TICO) exam.
This program will be offered online with continuous intake options.

Textbooks
The following Study Guides and textbooks are available for purchase. To download your order form CLICK HERE